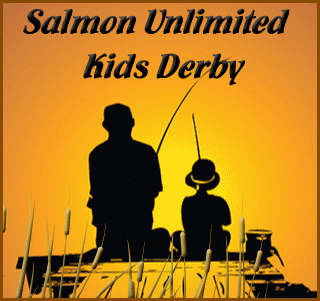 12th Annual Salmon Unlimited Kids Derby
The 2020 Kids' Derby in September is canceled.
The annual Kids' Derby will surely be missed by the participants,their families and volunteers alike. Large gatherings require the state be in Phase 5 as defined in Restore Illinois reopening plan. We find this condition to be unlikely by the end of the summer.
Additionally, the Board of Directors takes their roles seriously as guardians of the safety and welfare of the participants, their familiesand volunteers during this event. This year, COVID-19 has brought an additional risk which Salmon Unlimited IL cannot control or accept.
We thank our loyal participants, their families and volunteers as well as our sponsors, including Waukegan Harbor and Marina, and we encourage everyone to look forward to the 2021 derby.
We wish everyone a safe, healthy and fun remainder of the summer!
THANK YOU TO ALL OF OUR SPONSORS
13 and under division
Luke Marx - 8.6 lb. Northern Pike
Connor Kelly - 3.0 lb. Steelhead
Julian Quinones - 7.0 oz. Rock Bass
Chance Winkler - 2.0 oz. Perch
Adam Rojel - 1.6 oz. Largemouth Bass
Jayden Reese - 0.4 oz. Bluegill
Layla Quinones - 1.8 oz. Goby
Over 13 division
Jacob Klosel - 18.6 lb. Chinook Salmon
Tyler Takahashi - 3.0 lb. Coho Salmon
Antonio Sotelo - 5.5 lb. Northern Pike
Ketcher Fenton - 3.1 oz. Rock Bass
Luke Schappe - 0.5 oz. Largemouth Bass
Nathan Gonzalez - 1.3 oz. Goby
Most Fish
Eli Welch - 60
Children 15 and under are not required to have a fishing license to participate. All those over 16 must purchase license and appropriate salmon stamp
Where: Waukegan Harbor in the Waukegan Port District Building Directions

When: September 14, 2019 from 7am to 12pm

Registration/check-in: At the Harbor Office Patio

FREE to all kids, 18 and under. Ages 13 and under must have an adult guardian.

Divisions:

Kids 13 and under

Young Adults (Ages 14-18)


Prizes: Prizes will be awarded for the largest fish of each species in each division. Any species can be entered. If it has fins, it can win!

Rules: Fishing period will be from 7am to 12pm. All fishing must take place within the Waukegan Harbor area, including Government Pier and the South Rocks. All fish must be taken with hook & line, in accordance with Illinois DNR regulations. NO SNAGGING! Any legal bait may be used. Please observe the harbor rules of no casting in the portion of the harbor where boats are moored.

Food: Hot dogs, chips and drinks will be provided on the patio for all participants.

FLYER Click here to print rules, map, and mail in registration document.