Fishermen dedicated to the protection of our fishery, expanding our knowledge through shared information and having a good time.
12th Annual Salmon Unlimited Kids' Derby
We are happy to announce the Kids' Derby is back for 2022!
Saturday, September 17, 2022
Waukegan Harbor
Rain or Shine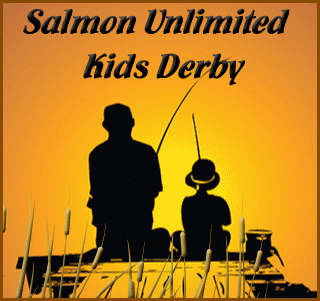 FREE to all kids 18 & under

Ages 13 & under must have an adult guardian

Children 15 & under are not required to have a fishing license to participate

All those over 16 must purchase a license & appropriate salmon stamp
2019 WEST LEYDEN HIGH SCHOOL FISHING TEAM
THANK YOU TO ALL OF OUR SPONSORS!

13 AND UNDER DIVISION
Chance Winkler....... 2.0 oz Steelhead
Hunter Paulsen....... 1.8 oz Perch
Giana Rivera.......... 1.4 oz Bluegill
Noah Acevedo........ 7.1 oz Rock Bass
Josephine Tekampe 2.8 oz Goby
​
​
OVER 13 DIVISION

Julio Soloreano.... 17.4 lb King
Aiden Benhke........ 1.6 oz Steelhead
Charles Kazior........ 0.7 oz Bluegill
Ethan Rarochelli..... 6.7 oz Rock Bass
Ryan Joyce............ 1.1 oz Goby

​
Most Fish

Eli Welch............... 78
2018
2019
For further information and rules click on the "FLYER" link
​
CLICK HERE FOR FLYER
CLICK HERE FOR REGISTRATION (not yet available)